Rocky Mounatain Archtop Festival 2023
The 3rd RMAF is going to happen in Denver, CO at the second weekend of September.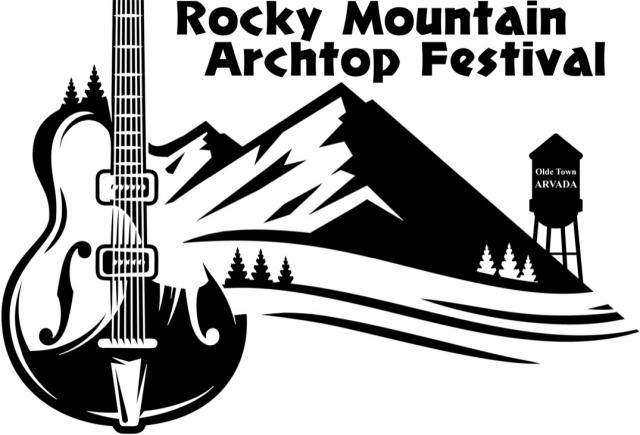 Peter Henriksen of Henriksen Amplifiers
has put up this show again. That weekend everybody by rank and name in the archtop scene is gathering there.
Guitarists like Bruce Forman, Frank Vignola, Jimmy Bruno, luthiers Bill Comins, Roger Sadowsky or Danny Kopp and many more are presenting their art and products.
There will be concerts, workshops and lectures. those three days are packed with everything around the archtop guitar. It's a land of milk and honey for every archtop enthusiast, don't miss it!
Sonntag Design Tailpiece
Finally arrived: The new metal Sonntag tailpiece!
As of now available with a Sonntag guitar order or for a changeover for €330,-
Workshop Bozen '23, Review
The 9th International Workshop for Jazz Guitar and Vocal, in memory of Helmut Nieberle, has successfully passed the stage.
The course took place at a new location, at Hotel Steinegger in St. Michael/Eppan near Bolzano. This house is an old traditional farm with a lot of South Tyrolean charm. Run as an agritourismo hotel by the Eisenstecken family, Verena and Michael, this house proved to be very suitable for the course.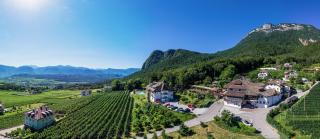 We had three rooms for lessons, a cozy restaurant with excellent South Tyrolean cuisine, and an equally cozy bar that proved to be prima for jamming.
I was a little nervous because when you stay for the first time, you don't know how the hoteliers and other guests would react to this wild troupe of guitarists and singers occupying the hotel for a week. My worry was unfounded. Verena and Michael had a lot of fun with our music themselves and the guests were also well entertained during the evening jam sessions.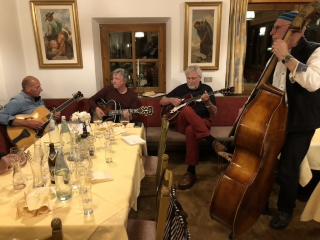 Hotel Steinegger is situated on a very spacious estate high above the valley with a magnificent 180° view over the Bolzano basin to the Dolomites.
On the premises is a terrace, an arbor and even the typical South Tyrolean bowling alley. Spa area, led by Renate Eisenstecken, indoor and outdoor pool in the outbuilding invite you to take a breather and relax.
Under such conditions, hardly anything can go wrong. The course participants and the instructors felt right at home and this had an effect on the mood in the course.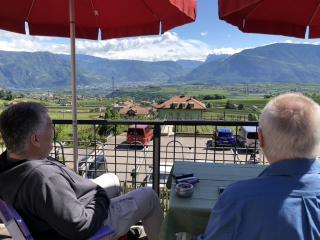 The three instructors, Paulo Morello, Bruce Forman and Jeanne Gies, conducted their lessons in a proven manner. All three are full professionals who have gathered their skills and knowledge in countless performances, which they passed on to the participants without reservation. All three are also very "sociable", outside of class they were accessible to the participants and had great fun hanging out together.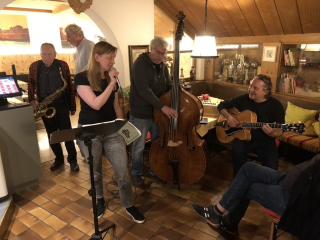 This contact makes the course unforgettable for the participants. Because Paulo, Bruce and Jeanne play together with the best of the jazz scene and can give interesting and amusing anecdotes and experiences from this wealth of experience to the best.
A highlight of the course week is the concert on the last evening. The hotel staff (who did an excellent job, which is worth mentioning) unceremoniously transformed the restaurant into a concert hall. Everyone in the course was invited to perform a piece. No one has to, everyone is allowed, and so 15 formations, solo, duo, trio and the Steinegger Six were found, which then shaped the evening.

So, as a summary can be said: The 10th International Workshop for Jazz Guitar and Vocals will again be held at the Steinegger Hotel. We felt very well taken care of by Michael, Verena, Renate and their staff and we are very grateful for their support. Without them the course could not be held. We were accommodated with much courtesy and warmth and look forward to the 2024 course, which will return to Eppan from 6-10 May.
 
Cronkhite Cases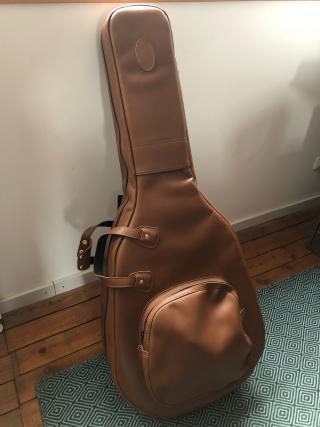 I am happy to offer the great bags by Glenn Cronkhite again!
Glenn Cronkhite is the founder of Reunion Blues cases. His company was based in Oakland, CA before he sold it to Torpedo Bags. (I was lucky enough to visit him there in 2004).
Torpedo Bags is now manufacturing high quality cases again in leather and Cordura based on Glenn Cronkhite's designs.  In my opinion there is nothing better to transport your precious guitar.
Torpedo Bags is offering explicitly matching cases for my guitar models, as I had them made by Glenn Cronkhite.
Custom made cases are also available on request, for an additional charge.


Cronkhite bags in leather are available from me for €620,-.
 
For orders, see measurement chart and color choices below: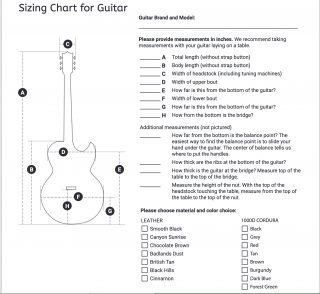 A new Tailpiece for Sonntag Guitars
As of now a new tailpiece made of metal is available for my guitars: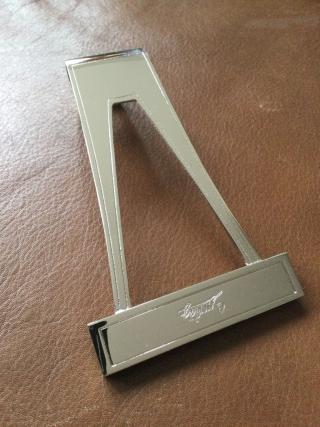 I can offer this tailpiece as an alternative to my Ebony tailpiece for all of my models. You can choose among silver or golden ones.
I have carried this idea of introducing a metal tailpiece around with me for years. Now, after almost 30 years of Sonntag guitars it is done!
Sonntag Guitars in Colorado
Finally, after a two year break caused by the pandemic, the 2nd Rocky Mountain Archtop Festival will be held again in Arvada, Colorado, on September 9.-11. .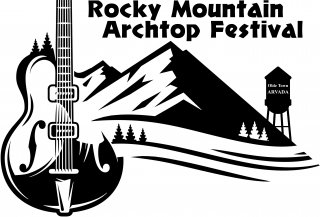 I will display my guitars there too and will present a big surprise! The secret will be desclosed not until the show will be opened.
A guitar exhibition will take place which exclusively presents archtop guitar builders. I'm excited to meet those 25 collegues and I'm looking forward to share experiences with them.
And of course music will be played. Many of the most renowned guitarists will perform or hold workshops. Among others are Bruce Forman, Jimmy Bruno, Howard Alden, Frank Vignola, Ted Ludwig...
It's going to be a weekend extraordinary with lots of music, instruments and everything around the archtop jazz guitar.
Sonntag Guitars on CD
Finally, Wesley G.'s CD, recorded with Bruce Forman and rhythm section, is out: "Wesley G. meets Bruce Forman".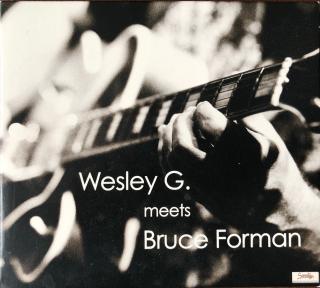 Two of the, in my opinion, greatest jazz guitarists of our time met to put standards together in a new form.
I'm very pleased that Wesley and Bruce recorded the CD with two Sonntag J17H Elektras. It's great to hear how my guitars sound in the hands of two true masters.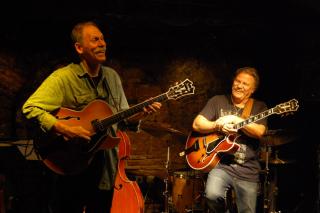 The opportunity for Wesley and Bruce to meet offered through my workshops which I use to hold with Bruce Forman.
Wesley is a long-time fan of Bruce and after one of the workshops he took the chance to play a small tour with Bruce.
The two hit it off musically on the spot! It was give and take and a joy to hear the two of them play.
So Wesley then fulfilled a dream and organized the studio and spent a weekend there with Bruce recording this CD.
Lucky for all of us, their music sounds as spontaneous and live as it was played.
"Wesley G. meets Bruce Forman", CD available for €17 at
Wesley G.: wesley.g@arcor.de

Sonntag guitars: info@sonntag-guitars.com


 And available for download on iTunes and Amazon.
 
Paulo Morello, welcome to the Sonntag-Family
Since October 2021, Paulo Morello has been the happy owner of a Sunday J16H Brigit.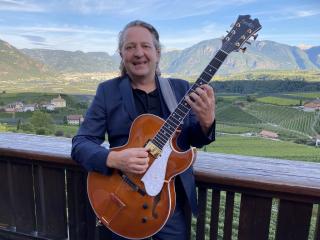 Paulo has been knowing my guitars since at least 2013, since he's been working as an instructor at my Workshop for Jazz Guitar and Vocals in Bolzano. That's where I always take my exhibition guitars, where they can be played in lessons and sessions. Of course, Paulo also took the opportunity to play my guitars. And so, I guess he caught fire over the years and finally had a Brigit built in 2021.
Why a Brigit? He likes the rich electric tone that the built in humbucker and the tick area of the top produces. And at the same time, he loves the acoustic touch, the wide dynamic range that comes from the thinner part of the top.
Welcome to the club, Paulo, have fun with your Brigit!
Robben Ford's Guitar, Completed and Delivered
Here an image of Robben Fords completed guitar in Cherry Sunburst and with a floating Kent Armstrong humbucker.
This is how he likes it, quote:

"The guitar arrived today… Exquisite!!! I've never seen a more beautiful guitar and it's wonderful to play"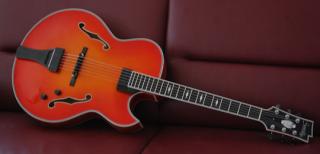 A Sonntag Archtop for Robben Ford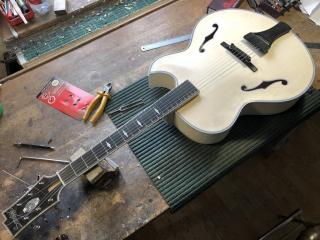 Some years ago Robben Ford was touring New Zealand together with Bruce Forman. On this trip Robben could lay his hands on Bruce' J16H Ballade, aka "Ruby" (it is finished wine red).
 
Robben was very pleased with the playability and the lively and dynamic sound of Ruby. That experience was ringing in his head over the years, which eventually led to the decicion
to get his own Sonntag in 2020.
He requested for a J16 Weltklang which I sent him to his place in Nashville. However, after he tried that guitar for a while, he realized that he'd rather prefer an acoustic archtop, like the one he tried from Bruce back then.
That guitar, an acoustic built J17H Weltklang, is almost done by now. It just needs to be finished, then it is ready to be shipped to Robben's home in Nashville.
Super Sound: Listen to a Sonntag J17X
Bastian Ruppert recorded a nice track with his J17X Standard: "Don't get around much anymore" By Duke Ellington
Recordet with
Channel 1: Royer 121 microphone
Supergain TV as a guest of Sonntag Guitars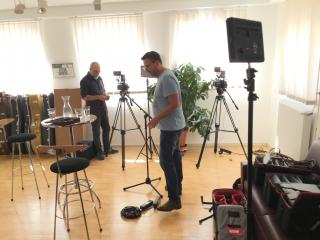 Michael Vochezer und Enrico Coromines, who run the Youtube channel Supergain TV  and the Guitar Academy with the same name in Munich, were "on the road". They came visiting me and my shop in order to shoot a documentary on Sonntag Guitars and archtop guitars in general and particular. I was happy to participate and to tell them about me, my shop, my career and my guitars.
But better you watch yourself. Here you find the first part of the interview. The second part will be out soon...
Sonntag Guitar #3000320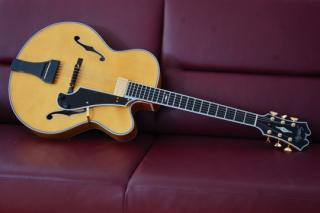 Beginning of March 2020 it was about that the 300th Sonntag guitar was completed.
It is numbered #3000320 and the model is a J17X Standard which will serve as an inventory guitar in my show room.
My workshop has been founded 27 years ago and lots of wood have been transformed into guitars on my work bench since then. I admit I take some pride in so many guitar players trusting my abilities and have me made them their desired guitar.
Among them those renowned players like Helmut Nieberle, Bruce Forman, Wesley G., Scott Henderson, Uli Hoffmeier and many others. 
Not to forget all those hobby guitarists who enjoy the sound of their Sonntag guitar for their own pleasure. 
I am very pleased to know that the result of my own hands work gives fun and joy to so many people!
Here's to the next 300 Sonntag guitars! 
Epitaph: Helmut Nieberle, ✝2020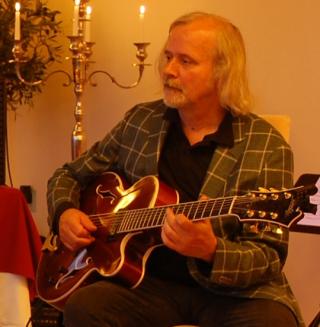 On February 9th, 2020 Helmut Nieberle passed away after a noble fight with bone cancer.
Like no one else, Helmut shaped me and my work through his love of the jazz guitar. We have been connected since I visited him with my very first archtop at the Birdland Jazzclub in Neuburg/ Bavaria in 1994. There the two famous Helmuts ( Helmut Kagerer & Helmut Nieberle) played a gig and I was advised to go there to introduce my new guitar to them. 
They showed polite interest and I thought to myself, ok, at least I've tried.
But soon after that Helmut Nieberle started to send his students to my shop, and one student after the other ordered guitars on his recommendation. In that year our cooperation commenced and lasted until his tragically premature passing.
Just as Helmut cherished my guitars, I learned to love his subtle and humorous personality and his elegant and tasteful guitar playing. I was enraptured by his unique style and ability to breathe new life into jazz standards, choros or any genre and let the music sing.
However, the most beautiful moments happened when he took the guitar on evenings at workshops, bars or private venues and gave free rein to his desire to make music. Those intimate moments are unforgettable, and will keep Helmut in my heart forever.
My only comfort is that he can sit in at the eternal jam sessions with all the jazz greats he so admired. 
I will miss Helmut so much. His death is a great loss for all, and an irreplaceable loss for all lovers of jazz guitar. 
Stefan Sonntag

I had the privilege of teaching with Helmut (along with Paulo Morello) for the past seven years at the guitar/vocal workshop organized by Stefan Sonntag. He was my mentor, and especially, my dear friend. Last May, by a series of miracles, Helmut and I were able to do a very spontaneous recording. We laughed, cried, and jammed at his dinner table, and recorded the next day, just the two of us, with the great Sven Faller. It was a truly spiritual musical conversation. I felt like everything I've ever learned as a singer and musician came together at that moment. Helmut touched many lives with his grace, wisdom, and unfailing humor: surely he touched mine. I am humbly grateful. Godspeed dear Helmut: I hope you are teaching all those guitar angels how to play with a singer!!
Jeanne Gies (New York) 
Flashback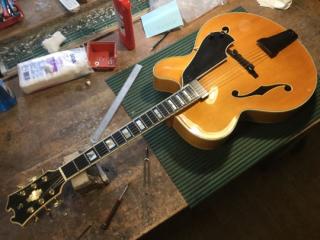 What a nice reunion: one of my very first archtops is back at my shop for service. Built in 1995, it was one of four in the second series.
I was still searching for the final headstock shape, you can see the first version of my logo, deep cutaway, large f-holes. All features which were altered until the current version has evolved.
This guitar is very well broken in and has nicely seasoned. Now owned by a fellow in Zürich. 
Scott Henderson plays Sonntag Guitars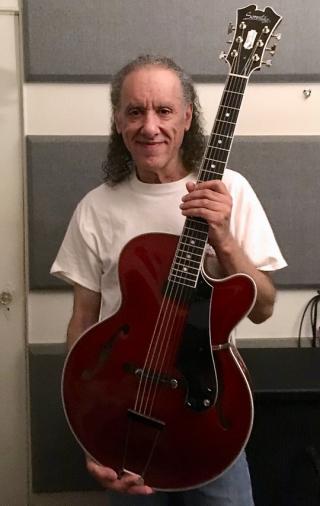 I am very happy to welcome Scott Henderson to the Sonntag Guitars player family.
Primarily Scott is known as a fusion player, which music he mainly plays on solid body guitars. But he can deliver mainstream jazz and bebop as well. For this purpose he got himself a Sonntag J16H Ballade.
About two years ago Scott borrowed Bruce Forman's Ballade in order to record the tune "Chelsea Bridge" for his cd " Vibe Station" (a very recommendable cd by the way!). Then he was hooked and I was super stoked when he got back to me and ordered the very same model.
However, the headstock is not inlayed with the "Bruce Forman" character, of course "Scott Henderson" is written there.
I regard it as a big honor to call a guitarist of his caliber a Sonntag-player.
I hope Scott will be inspired by his new Ballade to many more beautiful and acoustic sounding jazz tunes! 
New Model out: J17H with Fan Fretted Fingerboard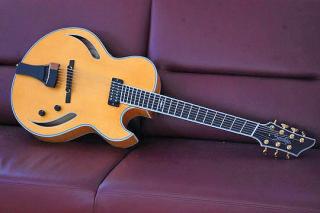 As of now 7-string Sonntag Guitars are available with fan fretted fingerboard. 
The fan results from the use of two different scale lenghts. The e-string is shorter, the A'-string is longer. I use a 64,4cm-scale and a 67cm scale which combination turned out to be very handy.
To explain the sonic background: The bass strings have more tension due to the longer scale length. Therefore they sound more concise, clearer and more powerful. Which makes very much sense on a 7-string guitar.
Actually I intended to use this new J17H Brigit pictured here as the new inventory guitar. But I showed it to Helmut Nieberle in advance and he immediately fell in love with this model. So I had to commit it to him, which was not a big sacrifice, since there is no better place for that guitar than in his hands.
I will rebuild a new 7-string gutiar with fan fret fingerboard soon, which will become the official inventory gutiar then. 
25th Anniversary of Sonntag Guitars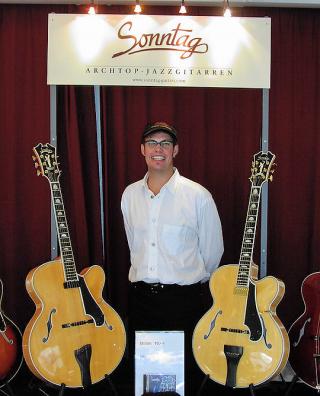 December 1st, 2018: The opening of the workshop of Sonntag Gitarrenbau is the 25th anniversary! 
On December 1st, 1993 I officially registered my workshop. At the beginning, the focus of my workshop was on the classical guitar. However, my model range quickly expanded to all kinds of guitars: electric solid bodies, steel string flat tops (a total of five pieces), flamenco guitars (a total of two pieces) and Maccaferri copies (also a total of five pieces). 
The first order for an archtop guitar came in 1994. I had wanted to build this type of guitar since beginning my apprenticeship in 1986, but waited until spring ´94, when this project took shape. There were the stories from the big bands in the 30's and 40's, when the guitarists played acoustic rhythm on archtop guitars. As a young guitarist in the 80's and 90's I found it hard to believe that this was possible with an acoustic guitar. Most archtops that were recently built were made of plywood, and electrified, Ibanez, Gibson or other mass production manufacturers. Some solid-wood models were built by Heritage or some other Gibsons, but they didn't seem to have a big acoustic voice either. The stories of the legendary guitars from the pre-war period, and handmade D'Angelico or D'Aquisto guitars inspired me follow in their legendary footsteps. 
So when Alexander Ruhland ordered the very first archtop from me, he founded my career as an archtop guitar specialist. 
Since then, I have built more than 300 archtop guitars, and I am happy that the orders come from all over the world. From Europe and North America, Australia and China. It is especially gratifying that such renowned guitarists as Helmut Nieberle, Bruce Forman, Wesley G., Scott Henderson, Uli Hoffmeier, Michael Arlt and Robin Nolan play their music with my guitars. (see: my artists).
I would like to thank all those who have supported me over the last 25 years. All of you made it possible for me to pursue my passion for the archtop guitar. 
To the next 25 years of Sonntag Guitars!!!