The J14 model is designed as a travel guitar. The small body, which size is shrinked down to almost LesPaul-size, is perfectly qualified for guitarists who need to do a lot of travelling. In the course of daily gigging the reduced weight and handiness stand out during stage set-up and unburden arm and hand.
On the plane the J14 fits comfortably into almost all over-heads, even those of the smaller planes on domestic flights.
This guitar still produces a thick, woody archtop sound, however, one may not compare it to the wider range of frequencies of a 17" archtop. Since the volume inside the body is reduced, the deepest bass frequencies are cut off and the mids are accented. But exactly this effect may benefit a creamy jazz tone through the pickup.
Responsiveness and dynamics of the small 14"-body are very direct and fast which is due to the reduced body mass which you need to make vibrate.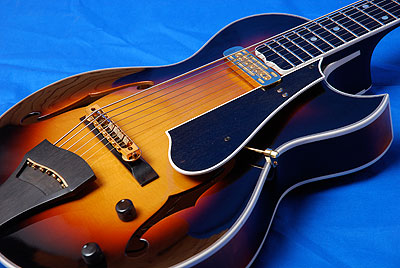 The J14 is available with the outfit and decoration of a Ballade-, Standard-, or Elektra model. Obviously enough the body is constructed for electric use (heavy built body, built in pickup). It can be delivered as well as an acoustic model on demand. Due to technical reasons the J14 comes only with a pointed cutaway.

Photos: Thomas Ludwig

Gallery